WELCOME TO GARRET PLAYERS
Thank you for visiting us! We're glad you're interested and hope you'll join us.


We are devoted to community theatre for adults in Lancaster and Fairfield County, Ohio. We are proud to perform in the Garret of the 3rd floor of the Fairfield County District Library. We appreciate the support and encouragement we receive from the Library and from the Friends of the Library.

Our goal is to create a fun community theatre opportunity that allows adults to easily be involved in quality theatre presentations. If you enjoy theatre but you think you don't have time or you're worried you can't memorize lines any more, Garret Players is for you! Please come out and "play" with us!

In this web site you'll find out about us and how to contact us. We hope you'll start by being in the audience for some of our great shows for the 2019-2020 season.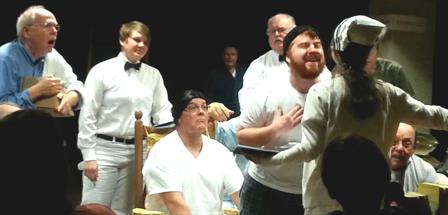 McMurphy and the guys explain to Nurse Ratched
the psychological benefits of watching the World Series on TV.

One Flew Over the Cuckoo's Nest
May, 2016