Garret Players is a volunteer activity at your Fairfield County District Library
which brings together people who share an interest in encouraging the educational, cultural and entertainment values of live adult community theatre
.
ASSISTED LIVING: THE MUSICAL®
August 18-20, 2023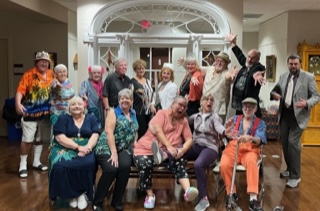 Front row: Cathy Haick, Cathy Bitler, Ellen Simmons, Rebecca Martin and Jay Badders
Back row: Steve Root, Judy Root, Barb Ramsey, John Sweyer, Marilyn Sweyer, Jackie Howard, Linda Kauffman, John Pekar, Scott Gottliebson and Sam Benham
Community Theatre Garret Players
Garret Players began in 2012 and brings together people who share an interest in encouraging the educational, cultural and entertainment values of live community theatre. Our principal format is to present classic and new plays adapted as imaginative and high quality staged-readings presented in the round. Many other theatrical formats are possible on the third floor of the Library Main Branch. Whatever the format, audiences experience good stories well told by some of the best actors, designers and directors in Lancaster, Fairfield County and beyond.

Garret Players' intimate, minimalist staged-reading format invites audience members to engage their imaginations or to just plain have fun. We also encourage audience participation by having "talk-back" sessions after some performances. These talk-backs give audience members an opportunity to share their reactions and to talk with the actors about their performances.

Actors find that Garret Players' staged-reading process without memorizing lines means their time commitment to a quality play is usually no more than two weeks from the first rehearsal to the last performance. This facilitates more adult participation in the joy of community theatre. Garret Players is inclusive, providing opportunities to all. Dating back to A Man for All Seasons in the Spring of 2012, 86 people have acted in our productions, a number we're eager to grow with each play.

Everything Garret Players does is donated, including the time and talents of the actors and crews. There are no admission charges but we ask audience members to consider making donations to the Friends of the Library – a section 501(c)(3) organization.

If you have questions or want to participate in Garret Players, please contact us. Or, talk with your favorite librarian. Thank You!
JOIN GARRET PLAYERS
Garret Players is a volunteer activity at your Fairfield County District Library which brings together people who share an interest in encouraging the educational, cultural and entertainment values of live adult community theatre.
There are many activities involved in creating community theatre, ranging from artistic and administrative directors and playwrights to the strike crew. There are many types of theatre experiences we could consider beyond our "main stage" productions. We're new and encourage imaginative thinking.
Garret Players invites you to join us and contribute your talents and enthusiasm. Please let us know that youre interested and what you would like to do. We want to involve as many people as possible. The 3rd floor of the Library is wheel chair accessible.
What would you like to do?
Play selection, playwright/adapter, scenic design,
Directing, acting, stage management,
Set pieces, props, costumes, lights & sound, vocal/dialect/accent coach,
Audience hospitality,
Marketing, IT, building security,
Teach or take adult acting and directing workshops,
Other.
What play would you like to see Garret Players do?
If you have questions or want to participate in Garret Players, please Contact Us or talk with your favorite librarian.
Please let us have your email or snail-mail address so we can keep you up to date.
AUDITIONS GARRET PLAYERS
A Merry American Christmas
YOUNG ACTORS NEEDED!
Actors age 10 to 17 are invited to audition for an upcoming production of A Merry American Christmas. An original work, the play tells the funny, heartwarming story of one family's holiday traditions over a period of nearly 80 years. Auditions will be held on August 8 and10 in the Wagner Theatre at OHIO University Lancaster. Auditions for adults will be held at a later date. Young actors can sign up now for an audition time by using the link below. A Merry American Christmas is presented by Garret Players, The Lancaster Playhouse and OHIO University Lancaster Theatre. Show dates are December 1 and 2. Rehearsals are scheduled for the evenings of November 9 and 10, 13 through 17, 20 through 22 and 27 through 30. NOTE: A parent or guardian MUST accompany actors to the audition.
Audition Sign Ups
Interested in auditioning? Great!
We love new faces and old friends. We want to involve as many people as possible and want to have diverse and inclusive casts and crews.
The following information will help you prepare:
Review the Upcoming Auditions schedule.
Download the Garret Players Audition Form, which you may fill out beforehand and bring with you to your audition.
Forms will also be made available during the audition registration.
Auditions vary by Director but are usually "cold read" auditions from the script. A Director may want to hear you do accents. Dress comfortably.
Auditions are an opportunity for actors to discuss the script with the Director, and to ask questions about the audition process, rehearsal period, costumes and makeup, and production. Those interested in working behind the scenes are also invited to attend.
CONTACT US @ GARRET PLAYERS
PAST PRODUCTIONS of GARRET PLAYERS
Garret Players major productions
(1) A Man for All Seasons by Robert Bolt.
Directed by Brent Alan Burington.
Presented at St. Peter's Lutheran Church, Lancaster.
April 27, 28, 29, 2012.
Cast: Brent Alan Burington, Ken Culver, Cathie DeRolph, Bill Hohman, Ron Keaton, Jackie Howard, Mike Lieber, Vicki Maddux, Sandy Maholm, Jay Mattlin, Pat O'Rourke, Mark Urbine, Stephanie VerDow.
Crew: Ben DeRolph, Brianna DeRolph, Donna Keaton.

(2) Of Mice and Men By John Steinbeck.
Directed by Ron Keaton.
November 2, 3, 4, 2012.
Cast: Scott Gottliebson, Rick Holt, Jackie Howard, Jay Mattlin, Bill McCleery, Thom Ogilvie, Dan Steele, John Sweyer, Mark Urbine, Erin Woody.
Crew: Donna Keaton, Sandy Maholm, Marilyn Steiner.

(3) A Christmas Carol by Charles Dickens.
A One-Man Show by Brent Alan Burington.
December 2, 2012.

(4) Harvey by Mary Chase.
Directed by Cathie DeRolph.
March 22, 23, 24, 2013.
Cast: Allyssa Benson, Ken Culver, Jeanette Ford, Misty Hoover Connor, Jon Hale, Christopher Hughes, Thom Ogilvie, Debra Smith, Dan Steele, Tina Thompson.
Crew: Ben DeRolph, Sandy Maholm, Donna Keaton, Ron Keaton.

(5) Animal Farm by George Orwell.
Directed by Donna Keaton.
Presented as a dramatic reading.
May 17, 18, 19, 2013.
Cast: Ron Keaton, Sandy Maholm, Jay Mattlin, Thom Ogilvie, Marilyn Steiner, Mark Urbine, Lou Varga.
Crew: Misty Hoover Connor, Ben DeRolph, Cathie DeRolph, Margaret Quamme, Dan Steele.

(6) Driving Miss Daisy by Alfred Uhry.
Directed by Sandy Maholm.
September 20, 21, 22, 2013.
Cast: Bill Henry, Debra Smith, Dan Steele
Crew: Misty Hoover Connor, Ben DeRolph, Cathie DeRolph, Jeanette Ford, Donna Keaton, Ron Keaton, Carol Steele.

(7) A Tuna Christmas by Ed Howard, Joe Sears, and Jaston Williams.
Directed by Carrie Peters & Allyssa Benson.
All proceeds went to the LSS Food Pantry.
November 22, 23, 24, 2013.
Cast: Scott Gottliebson and Rick Holt.
Crew: Ben DeRolph, Jeanette Ford, Chris Hughes, Donna Keaton, Ron Keaton, Jay Mattlin, Carol Steele.

(8) Crimes of the Heart by Beth Henley.
Directed by Misty Hoover Connor.
March 28, 29, 30, 2014.
Cast: Beth Craft, Jamie Culver, Mary Dupler, Jon Hale, Jackie Howard, Julie Whetstone.
Crew: Ken Culver, Ben DeRolph, Cathie DeRolph, Jeanette Ford, Rick Holt, Donna Keaton, Ron Keaton, Sandy Maholm, Carol Steele, Dan Steele.

(9) The Odd Couple by Neil Simon.
Directed by Thom Ogilvie.
May 16, 17, 18, 2014.
Cast: Daniel Betz, Cathie DeRolph, Christopher Hughes, Eduardo Lozano, Pat O'Rourke, Loran Peterson, Mason Taylor, Tina Thompson.
Crew: Ben DeRolph, Cathie DeRolph, Donna Keaton, Ron Keaton, Pat Oakey.

(10) Over the River and Through the Woods: A Story about Grandparents' Love by Joe DiPietro
September 19 - 21, 2014
Directed by Ron Keaton.
Cast: Allyssa Benson as Caitlin O'Hare, Danny Betz as Nick Cristano, Mike Lieber as Nunzio Cristano, Deb Smith as Emma Cristano, John Sweyer as Frank Gianelli, and Marilyn Piazza Sweyer as Aida Gianelli.

(11) Vintage Hitchcock: A Live Radio Play by Joe Landry
November 7, 8, 9, 2014
Directed by Dan Steele.
Cast: Bradley Lewis, MD, Actor 1; Ryan Troup, Actor 2; Lou Varga, Actor 3; Misty Hoover Connor, Actor 4; Beth Craft, Actor 5; Thom Ogilvie, Organist.

(12) A Christmas Carol by Charles Dickens
A One-Man Show by Brent Alan Burington
December 13, 2014

(13) On Golden Pond by Ernest Thompson
March 20, 21, 22, 2015
Directed by Loran Peterson
Cast: Ken Culver, Rosemary Hajost, Danny Betz, Jackie Howard, Jack Riter, Jon Hale.
Crew: Keith Arledge, Cathie DeRolph, Jon Hale, Donna Keaton, Jessica Kull, Deborah Miller, Pat Oakey, Carol Steele.

(14) The Dinner Party by Neil Simon
May 15, 16, 17, 2015
Directed by Ron Keaton
Cast: Carolyn Bayat, Barb Callahan, Julie Crook, Scott Gottliebson, John Pekar and Dan Steele.
Crew: Carolyn Bayat, Donna Keaton, Barbara Kumler, Carol Steele.

(15) Love Letters by A. R. Gurney
September 18, 19, 20 2015
Directed by Donna Keaton
Cast: Sandy Maholm and Ron Keaton.
Crew: Cathie DeRolph, Natalie Chieffe, Pat Oakey.

(16) Becky's New Car by Steven Dietz
November 13, 14, 15 2015
Directed by Dan Steele
Cast: Misty Hoover Connor, Beth Craft, Scott Craft, Cathie DeRolph, Jeanette Ford, Jon Hale, David Hogrefe, John Pekar.
Crew: Misty Hoover Connor, Jeanette Ford, Summer Gaib, Barbara Kumler, Debra Smith, Carol Steele.

(17) Night of January 16 by Ayn Rand
March 18, 19, 20 2016
Directed by Jon Hale
Cast: Jim Aranda, Allyssa Benson, Barb Callahan, Misty Hoover Connor, Beth Craft, Julie Crook, Jamie Culver, Ken Culver, Scott Gottliebson, John Pekar, Terry Phillips, Elaine Selby, Dan Steele, Tina Thompson, Lou Varga.
Crew: Allyssa Benson, Cathie DeRolph, Jeanette Ford, Michelle George, Carol Steele.

(18) One Flew Over the Cuckoo's Nest by Dale Wasserman (based on the book by Ken Kesey)
May 20, 21, 22, 2016
Directed by Danny Betz
Cast: Mason Taylor, Marcia Jeffrey, Pat O'Rourke, Bruce McAtee, Loran Petersaon, Rick Milheim, Jeanette Ford, Robert Rager, Julie Crook, Jim Cummins, Steve Root, Karyl Holt, Jessica Boll, Mark Urbine and John Pekar
Crew: Ron Keaton, Brian Pruitt, Tammy Pruitt and Barb Callahan

(19) The Trip to Bountiful by Horton Foote
September 23, 24, 25, 2016
Directed by Donna Keaton
Cast: Debra Smith, Elaine Selby, Jim Aranda, Julie Crook, Linda Kauffman, Misty Connor and Scott Gottliebson
Crew: Barb Kumler, Carol Steele, Karyl Holt and Ron Keaton

(20)Twelve Angry Men by Reginald Rose
November 11,12,13, 2016
Directed by Sandy Maholm
Cast: Steve Root, Mike Lieber, John Pekar, Dan Steele. Mark Urbine, Scott Gottliebson, Ken Culver, Terry Phillips, Dave Gibbs, Jamie Culver, Jeff Moore, Bruce McAtee and Lou Varga
Crew: Dan Steele and Carol Steele

(21) God of Carnage by Yasmina Reza (Translated by Christopher Thompson)
March 17, 18, 19, 2017
Directed by Danny Betz
Cast: Brian Pruitt, Julie Crook, Rick Holt and Helen Habel
Crew: Brian Pruitt and Tammy Pruitt

(22) The Glass Menagerie by Tennessee Williams
September 15, 16, 17, 2017
Directed by Jon Hale
Cast: Eric Smith, Julie Crook, Terry Phillips, Marilyn Steiner and Jon Hale

(23) Prelude to a Kiss by Craig Lucas
November 17, 18, 19, 2017
Directed by Allyssa Benson
Cast: Jackie Howard, Lou Varga, Lyssa Nycole, Jeanette Ford, Jim Aranda, Beth Craft, Danny Betz and Julie Crook
Crew: John Pekar, Donna Keaton, Ron Keaton and Karyl Holt

(24) Vanya and Sonia and Masha and Spike by Christopher Durang
March 16, 17, 18, 2018
Directed by Marilyn Steiner
Cast: John Pekar, Debra Smith, Linda Kauffman, Jay Mattlin, Caitlin Hurdley and Ellen Simmons
Crew: Jane O'Brien, Jim Aranda, Karyl Holt and Ron Keaton

(25) Terms of Endearment by Dan Gordon (based on the screenplay by James L. Brooks)
May 18, 19, 20, 2018
Directed by John Pekar
Cast: Tori Crenshaw, Ann Bennett, Scott Gottleibson, Darlene Gamble, Jim Aranda, Floyd Frye, Michele Ritchlin and Corinne Harris
Crew: Marilyn Steiner, Pam Whiteley, Jim Aranda, Darlene Gamble and Corinne Harris

26) And Then There Were None by Agatha Christie
September 14,16,16, 2018
Directed by Dan Steele
Cast: Jim Aranda, Elaine Selby, Karyl Holt, Scott Gottliebson, Jim Smith, Tom Fleming, Scott Craft, Beth Craft, Gary Steele and Jeff Moore.
Crew: John Pekar, Carol Steele, Leslie Fleming, Barbara Steele, Cathie DeRolph and Bill Haase

(27) The Legends of Sleepy Hollow by Washington Irving
October 28, 2018
Adapted and presented as a one man show by Brent Alan Burington

(28) Same Time, Next Year by Bernard Slade
November 16, 17, 18, 2018
Directed by Marilyn Steiner
Cast: Renee and Sam Benham
Crew: Bill Haase, Rita Hiles, Carol Steele

(29) A Man for All Seasons by Robert Bolt
March 22-23-24 2019
Directed by Brent Alan Burlington
Cast: Jim Aranda, Brent Alan Burlington, Ken Culver, Cathie DeRolph, Bill Hohman, Rosemary Hajost, Caitlin Hurdley, Jay Mattlin, Ron Keaton, Peggy Reasoner, Ellen Simmons, Deb Smith and Mark Urbine.
Crew: Beth Craft and Scott Craft

(30) Assisted Living: The Musical by Rick Compton & Betsy Bennett
June 7 and 8, 2019
Directed by Marilyn Steiner
Cast: Steve Root, Deb Smith, Scott Gottliebson, Cathy Bitler, Janet Perreni, Ellen Simmons, Barb Ramsey, Sam Benham, John Sweyer, Diane Derryberry, John Pekar, Darlene Gamble, Karen Wagner and Linda Kauffman.
Crew: Rita Hiles

(31) Assisted Living: The Musical by Rick Compton & Betsy Bennett
September 13 and 14, 2019 (encore performances)
Directed by Marilyn Steiner
Cast: Steve Root, Deb Smith, Scott Gottliebson, Cathy Bitler, Janet Perreni, Ellen Simmons, Barb Ramsey, Sam Benham, John Sweyer, Diane Derryberry, John Pekar, Darlene Gamble, Karen Wagner , Mark Conrad and Linda Kauffman.
Crew: Rita Hiles

(32) Assisted Living: The Musical The Home for the Holidays
by Rick Compton & Betsy Bennett
December 6 & 7, 2019
Directed by Marilyn Steiner
Cast: Steve Root, Barb Ramsey, Scott Gottliebson, Cathy Bitler, Mary Latorre, Ellen Simmons, Diana Turpin, Sam Benham, John Pekar, Ken Culver, Darlene Gamble, Mark Conrad and Linda Kauffman.
Crew: Rita Hiles

(33) The Murderous Mansion of Mr. Uno by Don Zolidis
February 21, 22, 23, 2020
Directed by Jay Mattlin
Cast: Jay Mattlin, Barb Ramsey, Marilyn Steiner, Debby Allen, Jeff Husband, John Pekar, Vicki Maddux, Julie Crook, Hollie Merchant, Keely Pearce and Alicia Anderson

(34) The Cemetery Club by Ivan Menchell
August 20-21-22, 2021
Directed by Cathy Bitler
Cast: Cathy Bitler, Marilyn Steiner, Ellen Simmons, John Pekar and Karen Wagner
Crew: Linda Kauffman

(35) Independence Day at Happy Meadows by Laura King
April 29, 30 May 1, 2022
Directed by Marilyn Steiner
Cast: Cathy Bitler, Marilyn Sweyer, Rebecca Martin, Ellen Simmons, Beth Craft, Wes Osborn and John Remoquillo
Crew: Rita Hiles

(36) The Sweet Delilah Swim Club a Jones Hope Wooten comedy
August 26,27,28, 2022
Directed by Cathy Bitler
Cast: Renee Benham, Misha Clarke, Tara Craaybeek, Keely Pearce and Brenda Shamblin
Crew: Rita Hiles, Rebecca Martin, Ellen Simmons and Marilyn Steiner

(37) It's a Wonderful Life: A Live Radio Play by Joe Landry (a collaboration with Ohio University Lancaster and The Lancaster Playhouse)
December 1,2,3, 2022 at The Wagner Theatre OUL
Directed by A. Victor Jones and P.J. Aubrey
Cast: Joey Austin, Emily Bartholic, Cathy Bitler, Elijah Boggs, Cian Bowers, Cora Bowers, Ken Culver, Connor Daughterty, Parker Dickerson, Scott Gottliebson, Norah Hanson, Leslie Glenn, Gail Greenzeig, Jeff Husband, Linda Kauffman, Elijah Logan, Hollie Merchant, Fred Norris, Alex Nyamohanga, Terry O'Malley, John Pekar, Jeffrey Porter, Abby Reeves, Angela Russell, Jim Shannon, Debra Smith, Donnie Van Meter and Kim Wickham
Crew: Emma Clement, Paul Russell, Levi Donahue, Jane O'Brien and Marilyn Steiner

(38) 12 Angry Men by Reginald Rose (adapted by Sherman L. Sergel)
February 10, 11, 12, 2023
Directed by Marilyn Steiner
Cast: Jim Aranda, Sam Benham, Danny Betz, Brian Crabtree, Jamie Culver, Adam Farley, Jeff Husband, Rebecca Martin, Fred Norris, Wes Osborn, John Pekar, Paul Russell and Jim Shannon.
Crew: Beth Craft and Ellen Simmons

(39) The Outsider
May 19,20 and 21, 2023
Directed by John Pekar
Cast: Joey Austen, Kim Chrysler, Carl Davis, Tammy Drobina, Tracy Kelly, Peyman Majidi and Paul Russell
Crew: Marilyn Steiner

Other Garret Players Programs

Christmas Magic A Christmas play performed at Forest Rose School sponsored by the Lancaster Rotary Club
December 9, 2013
Directed by Donna Keaton
Cast: Ron Keaton, Barb Kumler, Carol Steele, Lannette Tipple and Marilyn Steiner

Christmas Magic A Christmas play performed at Forest Rose School sponsored by the Lancaster Rotary Club
December 14, 2014
Directed by Donna Keaton
Cast: Cathie DeRolph, Lannette Tipple, Ron Keaton, Barb Kumler, Sandy Maholm, Carol Steele, Dan Steele and Marilyn Steiner

Comet's Mistake A Christmas play performed at Forest Rose School sponsored by the Lancaster Rotary Club
December 14, 2015
Directed by Donna Keaton
Cast: Carolyn Bayat, Cathie DeRolph, Ron Keaton, Barb Kumler, Sandy Maholm, Carol Steele, Dan Steele and Marilyn Steine